About AS Roma
Formed in 1927, Associazione Sportiva Roma are one of Italy's biggest clubs, traditionally drawing most of their support from the working-class heart of Rome. Although there are many Lazio fans in the city too, and their blue-and-white colours dominate the surrounding region, it's the red and yellow of the Roma fans which is most conspicuous in the city centre.
Since the team's creation, Roma have won the scudetto three times, most recently in the 2000-2001 season when the partying lasted weeks and the entire city turned giallorosso. Even in less exciting seasons, the atmosphere at the club's big matches is still thrilling, and the team's derby games with arch-rivals Lazio are among Italy's most passionate and discussed sporting events.
If you can only experience one game in Italy, a weekend in the Eternal city and a Rome derby would be hard to beat.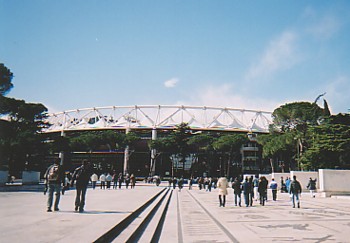 Club Information
Full Name : Associazione Sportiva Roma
Team Colours : red and yellow
Nicknames : giallorossi,
Stadium : Stadio Olimpico, Via Foro Italico, Rome
Capacity : 72,698

Official Website : asroma.it
Club Honours
Serie A : 3
Coppa Italia : 9
Matchday Information
The Stadio Olimpico is, without a doubt, one of the most beautiful and evocative football stadiums in the world. It has hosted the World Cup final in 1990 and more recently two Champions League Finals. Despite a running track separating the stands from the pitch, the views and atmosphere are still special. Shared with Lazio, the Roma fans occupy the southern end of the staduim, the curva sud.
To reach the stadium take Metro Linea A to Flaminio station, then take tram number 2 to Piazza Mancini (the terminus). The Stadio Olimpico is just over the River Tiber.
In Rome you can buy tickets at the stadium and from some Lottomatica outlets (there is a list on the club website, under Ricevitorie). The club also has a number of shops where you can buy AS Roma merchandise and tickets. They're listed at www.asromastore.it; those with an asterisk sell tickets. Try the shop in Piazza Colonna, which is very central, or the branch at Via Appia Nuova 130 (Re di Roma or San Giovanni metro stations).
Rome Travel and Tourism
It goes without saying that Rome is one of the best places you could possibly visit on a football trip. There are enough sights, museums and attractions to fill the longest of trips, but even if you're only visiting for the weekend, the compactness of the city centre means you can still fit in the most important sights.
For more detailed information on things to do and where to stay in Rome visit our sister website Italy Heaven - Rome.