About Napoli
Founded in 1926 and based in the southern city of Naples, Napoli are one of the biggest and best known teams in Italy. That said, their history was fairly modest until the mid 1980's when they were catapulted to the top of the league thanks largely to the signing of Maradona. Although he left the club under something of a cloud, sparking a decline that saw the club relegated to Serie B, Maradona remains a local hero in Naples. In 2007 they returned to the top division and have performed well since, establishing themselves as a threat to the top teams.
Club Information
Full Name : Societa Sportiva Calcio Napoli
Team Colours : blue
Nicknames : azzurri
Stadium : Stadio San Paulo, Naples
Capacity : 60,000

Official Website : sscnapoli.it
Club Honours
Serie A : 2
Coppa Italia : 3
UEFA Cup : 1
Matchday Information
The San Paulo is a huge stadium, but unlike many others in Italy, it is often full and provides a great match day experience. Being the only team in Naples they are very well supported, even when in the lower leagues.
The stadium is located to the west of the city and can be reached from the train station on the FS Metropolitan. The Gianturco-Bagnoli line goes to Campi Flegrei and the stadium is just a short walk. Tickets can be bought at the stadium on match days.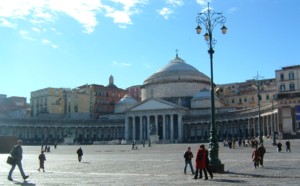 Naples Travel and Tourism
Colourful and vibrant Naples has had a mixed reputation for centuries. Some people (especially northern Italians) will warn you about this unsavoury port town, rife with casual crime, chaos and shadowed by the Camorra. At the foot of Vesuvius and with a history of earthquakes, Naples has its share of natural threats too.
However, it is also a cheerful and fascinating city, home to pizza, music, ice cream, the famous Farnese collection. From Naples you can visit Pompeii, Sorrento, the Amalfi Coast, Capri, Ischia, Procida, and the city has the added advantage of being a budget airline destination for UK travellers.
For more detailed information on things to do and where to stay in and around Naples visit our sister website Italy Heaven - Naples.