About Bari
Bari are based in the city of the same name in the south east of Italy. They are one of quite a few teams that have spent the last few decades being promoted to, and relegated from, Serie A.
Club Information
Full Name : Associazione Sportiva Bari
Team Colours : all white
Nicknames : galletti (cockerels)
Coach : Giampiero Ventura
Stadium : Stadio San Nicola, Bari
Capacity : 58,000

Official Website : asbari.it
Club Honours
No major honours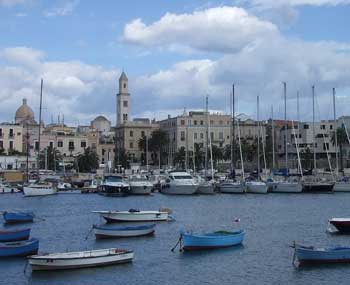 Matchday Information
The impressively large stadium was built for the 1990 world cup and is located on the plains some four miles south of the city. From the city centre, the number 20 bus goes directly to the stadium.
Tickets for Bari home games can be bought online from Ticketone.
Bari Travel and Tourism
Bari is a busy sea port and doesn't have much of a reputation as a tourist destination but is actually a decent place to stay for a few nights either side of a game.
Easy to get to thanks to budget airlines flying to Bari, the city has an atmospheric old town and a handful of sites worth seeing. Outside the city, the region of Puglia offers a lot more and Bari is an ideal starting or finishing point when exporing the area.
For more detailed information on things to do and where to stay in Bari and Puglia visit our sister website Italy Heaven - Bari.