About Inter Milan
FC Internazionale, Inter Milan, or Inter, as they are most commonly known, are one of Italy's biggest and most established clubs. Historically they are Italy's second biggest team after Juventus (matches between the two are known as the derby of Italy) but during the 1990s and the first half of this decade they were the nearly men of Serie A. Despite the heavy spending of owner Massimo Moratti they could not find a way to beat great rivals AC Milan or Juventus to the title.
This changed in 2006 when they were awarded the Scudetto after the match fixing scandal that saw AC Milan and Juventus punished. With Juventus relegated to Serie B and Milan docked points, Inter siezed the chance to fill the void at the top of Serie A. They haven't looked back since and have won each title since, two under the guidance of Roberto Mancini and one under Jose Mourinho.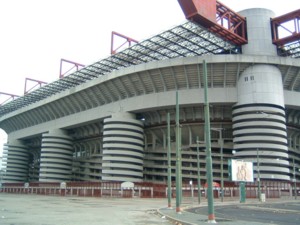 Club Information
Full Name : Football Club Internazionale Milano
Team Colours : black and blue vertical stripes
Nicknames : nerazzuri
Stadium : Stadio Guiseppi Meazza (San Siro), Via Piccolomini, Milan
Capacity : 86,000

Official Website : inter.it
Club Honours
Serie A : 17
Coppa Italia : 5
UEFA Champions League / European Cup : 2
UEFA Cup : 3
Matchday Information
The San Siro is one of the most famous football stadiums in the world. It dates from 1927, but was restructured for the 1990 World Cup. It's composed of three rings, one above the other. It's a beautiful stadium, with fantastic views of the pitch, but its design has brought some problems with occasional falls and missile throwing from its steep upper tiers. Inter fans even managed to throw a scooter off on occasion.
To reach the stadium taketake the Metro to Lotto (MM1). From this stop it's a fairly short walk, simply follow the other fans.
Fans should be able to buy tickets to Inter home matches online through the link on the tickets page of the club website. In Milan tickets can be purchased at branches of two banks, Banca Popolare di Milano and Banca di Legnano.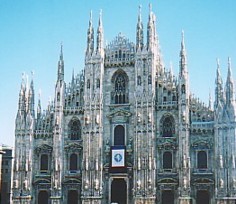 Milan Travel and Tourism
Milan is renowned for being businesslike and less beautiful than Rome, but the city actually has a lot to offer the weekend visitor. The designer style and shopping are only for the well-inlaid, but sitting outside a cafe by the fantastic Duomo and admiring the well-dressed world go by is something within everyone's grasp.
In its museums and galleries are some great works of art, while more simple pleasures include climbing up to the Duomo's roof and enjoying the tranquillity and the view over the city to the mountains. The Brera and the Navigli (canal) districts are both appealing for evening strolls.
For more detailed information on things to do and where to stay in Milan visit our sister website Italy Heaven - Milan.