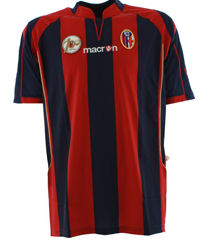 About Bologna
Bologna have a proud history in Italian football, unfortunately for their fans it is largely ancient history. They have won Serie A seven times making them one of the most successful teams in Italy but the last of these was over forty years ago.
In recent years thay have spent a few seasons in Serie B and have sometimes only narrowly avoided relegation.
Club Information
Full Name : Bologna FC 1909
Team Colours : red and blue vertical stripes
Nicknames : rossoblu
Coach : Alberto Malesani
Stadium : Stadio Comunale Renato Dall'Ara, Via Andrea Costa, Bologna
Capacity : 39,000

Official Website : bolognafc.it
Club Honours
Serie A - 7
Coppa Italia - 2
Matchday Information
The staium is to the west of the city and can is served by bus number 21 from the railway station. On match days, tickets go on sale at the stadium 2 hours before kick-off.
Bologna Travel and Tourism
Bologna is an attractive university town in the Emilia-Romagna region of northern Italy. Famed for its historic red-brick architecture and porticoed streets, the city is a popular destination for budget weekend trips from the UK. Thanks to its young population the city has a relaxed feel and there are numerous sites to see both in Bologna itself and the surrounding area. Easyjet run services to Bologna, while Ryanair use the airport at nearby Forli.
For more detailed information on things to do and where to stay in and around Bologna visit our sister website Italy Heaven - Bologna.